Last week Magic South Africa participated in the
Mobile East Africa 201
4 event in Nairobi, Kenya, where Magic exhibited its solutions and met with customers and media to discuss our growth plans for the region.
Focused around the theme of "Expanding mobile data usage and driving monetisation through industry collaboration," the event brought together key stakeholder groups to talk about the future of mobile in East Africa.
At our booth, we had the opportunity to demo our enterprise mobility solution and discuss how Magic enables companies to improve business processes through mobile business apps. Examples include enabling
Nictus
to create an end-to-end mobile insurance app providing customers, employees and representatives with one-touch access to account information and enabling
BKB Grain Company
to manage their whole supply chain more efficiently through mobile integration.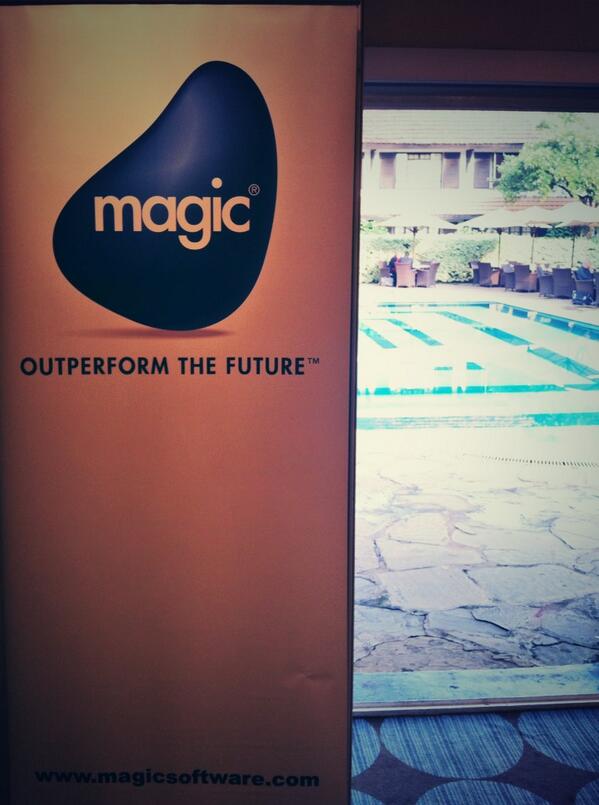 I also met with several journalists, including James Ratemo of BizTechAfrica, and was featured in the article MEA2014 urges more apps for basic phones, by Semaj Itosno, where it was mentioned that, "Magic Software helps app developers to redefine business processes on any device, be it a feature or a smartphone." And that, "Magic Software cuts down on coding time and requires no multi-platform testing…once built it can be deployed on many platforms without additional code."
According to recent research by the
Pew Research Center
, today 82% of Kenyans own a cell phone, yet only 37% use the internet occasionally or own a smart phone. While we expect East Africa to leapfrog on the mobile front with the decrease in the cost of gadgets and mobile data, the types of mobile apps that would work well in this region are different than those that might be deployed in other countries. For example, Pew Research says that despite the fact that making or receiving payments is one of the least common cell phone activities across the world, it is especially popular in East Africa where nearly seven-in-ten (68%) Kenyan cell phone owners and half of Ugandan cell phone owners say they regularly use their mobile device to make or receive payments. This contrasts with South Africa where just 29% use their cell phones for making and receiving payments and in the 18 countries they surveyed outside of sub-Saharan Africa where a mere 8% (median) say they do so.
It's important to note, for mobile consumer apps, it's still too early for smart phone apps in East Africa. Feature phone apps that utilize SMS and SSD capabilities are still the predominant app choice. However, in the enterprise space, where businesses provide smart phones or where employees have money to afford their own, will require platforms that enable rapid development with multi-channel deployment options, thus allowing for speed to market and a quicker return on investment. Given the irregular supply of electricity and the sparse spread of network connection, offline capability is a prime requirement when choosing app development platforms. For these reasons and more,
Magic's End-to-End Enterprise Mobility Solution
is a great choice for East African governments and businesses who are taking advantage of the opportunities provided by enterprise mobility.